Emergency changes to class structure
This class moved online, from March 18th onward, because of American University's response to COVID–19 and the resulting transition away from face-to-face classes. If you're curious, you can see the original class schedule and original syllabus.
About the rest of the spring
This won't be a normal semester, and nothing will make it a normal semester, however much we might wish for that.
Take from this class what you need. Some of you might have little time; some of you might now have too much. If you have the capacity to keep on making, I'm confident that together, we can design truly worthwhile work. If you aren't able to participate as fully as you might have wanted, that's fine, we're in a global crisis. Either way, I invite you to use this class as a source of support and a link to something normal.
Design for Understanding
Graphic design grew out of the applied arts, just about a hundred years ago. It emerged from commercial art, which helped merchants reach consumers, and printing and publishing, which connected readers with new ideas. More recently, an increasingly networked world brought interaction design, which shapes the interface between people and systems.
All of these approaches, though, share a key idea: that design involves a process of research, reflection, and making—making form* where there was no form before and, in parallel, making sense out of things that might not yet make sense. They also follow from an idealistic perspective, the view that design can make a better world in ways large and small.
* Usually visual form—type, drawings, photographs, colors—but not at all exclusively so.
This semester's lens on design and sustainable culture
Design has a very mixed relationship with the public interest. The link to the applied arts give designers permission to make work with a personal voice, suffused with poetry and perhaps deeply principled. Much design practice, though, tends toward the amoral. Thirty-three leading designers call the field out for this in First Things First 2000:
Commercial work has always paid the bills, but many graphic designers have now let it become, in large measure, what graphic designers do. […] There are pursuits more worthy of our problem-solving skills. Unprecedented environmental, social and cultural crises demand our attention.
Yet there is a long and growing tradition of design in the public interest, and that mode of practice will become ever more important as we approach ecological limits.
The spring semester of 2020 opens the world in the grip of a climate emergency. The headlines talk about Australia in flames. We are seeing crushing droughts and storms, failing crops and failing ecosystems, mass extinctions, and a surge in sea levels—though both natural systems and human responses hold promise.
James Corner writes about the potential of design ("Thinking Big: Design with Nature Culture," in Design with Nature Now):
There is still an enormous reservoir of untapped creativity related to the interface between ecology and culture, and most of this belongs to the world of design. Humanity continues to propagate new forms, new ideas, and new ways of being; it is just a question of sparking the imagination and inspiring collective aspiration.
We've got to learn how to live within planetary boundaries. These two sections (GDES-270–004/–005) pursue the idea that design has a role in creating cultures that are more sustainable and more just. We start with fundamental methods, and move toward using those methods to problems in sustainability and and climate.
New Deal precedents
The scale of the problem has few peacetime parallels in the U.S.—the best precedent is the New Deal, a moment of particular interest because designers, artists, architects, and planners contributed so heavily to projects that supported the public interest. We will look to the 1930s New Deal as inspiration and metaphor. (The Green New Deal will come up, because you cannot talk about climate response in 2020 without it, but our discussion goes wider.)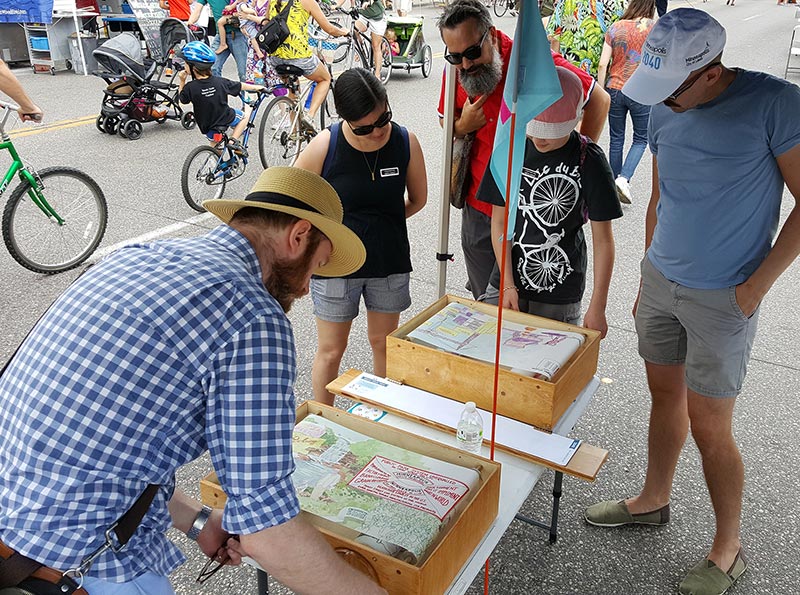 Humanities Truck project and participatory design
This year, I'm running a project, Before the flood, through the AU Humanities Truck. The project asks how will DC change in response to the climate crisis? Design can help us have more ground, equitable conversations about the choices we must make. You'll have the option of adding your work to the interactive programs and exhibit.
Learning outcomes and structure
Catalog description
In this course students develop creative thinking strategies, produce creative works, and discuss issues pertaining to formal, technical, and cultural considerations of design. Students develop fluency in the principles of visual language to form a basis of aesthetic judgment and develop methods of analysis and inquiry for creative thinking as well as becoming familiar with graphic principles, tools, and techniques. The course combines in-studio practice with class critiques of work, software tutorials, and supporting lectures. AU Core Habits of Mind: Creative-Aesthetic Inquiry.
Learning outcomes
Students will be able to:
Discuss the difference between effective and ineffective visual communication via critique.
Recognize the cultural, social, and economic influence and value of graphic design both historically and in everyday life.
Become competent in the use of essential digital and manual graphic design tools to create expressive works of design.
Create conceptually-rich pieces of graphic design by invoking techniques to stimulate ideation and creative thinking.
Understand and manipulate the meaning-making relationship between text and image.

In this course, you will cultivate the following Habits of Mind:
Identify and describe acts, practices, and products of artistic and other creative expressions or of aesthetic interpretations and discuss how they reflect, respond to, or shape their many contexts.
Describe and analyze the formal and structural components of artistic and other creative expressions in at least one discipline or domain, or across a range of disciplines or domains.
Engage in or with creative processes, which could include constructing meaning through the practices and products of artistic or other creative expressions, interpreting the meaning of artistic or creative expressions, practicing divergent thinking, or assessing the aesthetic value of artistic or other creative expressions.
Structure
This is a studio course. It relies on discussions and critiques, and demonstrations and work in our studio space. There is a significant amount of project work and required reading. The schedule and project briefs are provisional and may change.
Materials
This course uses assigned readings, available on the course website or through Blackboard. There is one required textbook (on reserve in the library):
Lupton, Ellen, and Jennifer Cole Phillips. Graphic Design: The New Basics. Second edition. New York, N.Y.: Princeton Architectural Press, 2015. (The first edition is also acceptable.)
We'll give you some supplies, but you need to purchase other materials yourself. See a full list of tools and supplies, with tips about where to get them.
Policies and expectations
Grading
Grades take into account the critical, innovative, and analytical thought that goes into projects, the thoroughness of the design process, the quality of writing and analysis, and the craft and skill that go into products.
Process and iterative development are at the center of this course. Keep designing steadily through the semester, and show your work in critiques. Any project that your instructor has not seen in progress will receive a failing grade.
Projects are generally due at the beginning of class, though you may resubmit work at any point through the last class.
The final grade is calculated as follows (values may change over the semester):
Design projects and quizzes: 85%
Process book: 10%
Designer presentation: 5%
Attendance and participation: modify grade
Grading scale
A (excellent) Work that is clearly superior.
B (good) Work that reflects a strong understanding of the material.
C (fair) Work that shows basic competence and fulfills the requirements of the assignment.
D (poor) Work that is unsatisfactory or inadequate.
F (failing) This grade is assigned for failure to complete work in a timely and competent manner, or for non-attendance.
Attendance and the classroom
Come to class, on time. It is better to show up late than not to arrive at all. You can miss one class, for any reason, without penalty. Additional absences or missed class time will count against your course grade; final grades drop by 4% for each unexcused absence.
Grounds for excused absences are illness, religious observances, family emergencies, and military or jury service. You do not need to provide a note, but you must let me know by email.
In the classroom, conduct yourself professionally, in a way that shows respect for your fellow students, your instructor, and the material. Do not record audio or video; if you need a recording, your instructor will arrange for one.
New for online course
Take part in discussions on Slack. We will hold (some) group video conferences, but your attendance is entirely optional.
Citations and academic integrity
You'll need to provide citations for every piece of work that you didn't make yourself. This includes text, images, ideas, and code. It includes images that you edited, images that you traced, and even images that you merely used as references for your own illustrations.
When you turn in the files for a project, include a list of citations in a separate document. You need not adhere to any particular citation format (though consider the Chicago Manual of Style). Whatever you do, your instructor must be able to identify the material and find the original. If you have a web address, provide it.
An example citation:
My drawing of a bird is traced from a freely licensed
photo by John Cobb, on Unsplash.
https://unsplash.com/photos/mk2USqDQE5E
Try making your own images and photographs. You will learn more, and the results are likely to be more original.
Standards of academic conduct are set forth in the university's Academic Integrity Code. See your instructor if you have questions about academic violations described in the code, as they apply in this course.
Support services
American University offers an array of support services.