DC and Maryland Railroad Lines
It's difficult, on the major online maps, to see railroads at all, let alone to understand railroad systems. Even popular vector tile providers like Mapbox Streets, the Mapzen vector tile service, and OSM2VectorTiles drop out railroads at lower zoom levels—the scales that are necessary in order to visualize regional networks. Similarly, features of great operating interest remain unlabeled.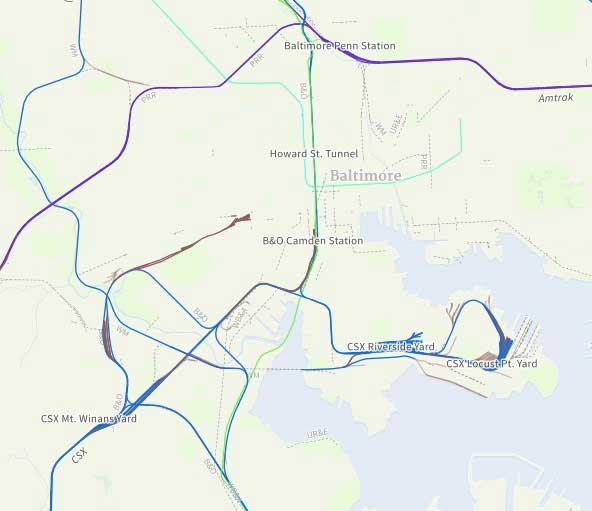 This map aims to help readers to construct a view of Maryland and DC railroads at multiple scales. It provides names of lines, yards and junctions, and major customers. Older operating companies and former rail lines are identified, when available. The routes on the ground come from OSM, but names of features generally come from textual sources.
Related
Compare with a map of DC—Baltimore area railroads plotted against terrain, which looks more closely at the relationship between routes and topography.
Data
Spatial data from OpenStreetMap and Mapbox Streets.
Sources
"Index of Industries Located Along Baltimore's Waterfront." The Democratic advocate (Westminster, Md.), 5 Oct. 1917.
Ediger, Gill. Route Maps of the Baltimore Terminal Subdivision. CSX Transportation, 2002.
Ediger, Gill. Route Maps of the Cumberland Subdivision. CSX Transportation, 2003.
Ediger, Gill. Route Maps of the Cumberland Terminal Subdivision. CSX Transportation, 2003.
Ediger, Gill. Route Maps of the Metropolitan Subdivision. CSX Transportation, 2003.
Ediger, Gill. Route Maps of the Old Main Line Subdivision. CSX Transportation, 2002.
Frograil Rail Tours. CSX East Coast Route.
Harwood, Jr., Herbert H. Impossible Challenge: The Baltimore and Ohio (B & O) Railroad in Maryland. Baltimore, Md.: Barnard Roberts & Company, 1979.
"Maryland Operating Rail Systems", Maryland Dept. of Transportation. (Map.)
Railfan Guides of the U.S. (Maryland sections.)
Rand McNally and Co. "Rand McNally & Co.'s Commercial Atlas Of America. Fifty-Fifth Ed." Chicago: Rand McNally and Co., 1924. (Map of Baltimore.)
Sanborn Map Co. Insurance Maps of Baltimore, Maryland. New York, 1952–1953. (Updates through 1984.)